Collaborative research on artificial intelligence creates strong international links. The Czech-French workshop "CZ-FR-AI" only confirmed this
12 September 2022 | Ministry of Foreign Affairs
13 September 2022 | CIIRC CTU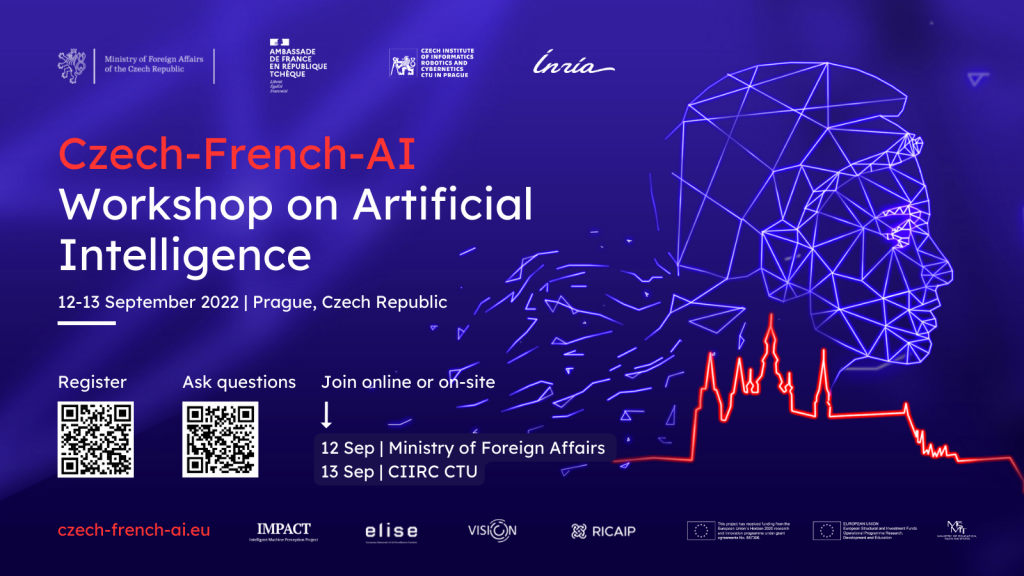 The two-day meeting of leading Czech and French researchers, developers and entrepreneurs focused on strategically important areas of artificial intelligence was opened by Foreign Minister Jan Lipavský on Monday 12 September 2022 at the Czernin Palace. The event was the result of several years of efforts by an international team consisting of representatives of the Ministry of Foreign Affairs of the Czech Republic, the French Embassy in Prague, the Czech Institute of Informatics, Robotics and Cybernetics of the Czech Technical University in Prague (CIIRC CTU) and the French Institute Inria.
One of the objectives of the Czech-French strategic partnership is to cooperate in favour of innovation and support startups. Prague and Paris also support the joint efforts of EU countries that want to be among the global leaders in the use of advanced digital technologies. The theme of the workshop was therefore, among other things, the use of artificial intelligence in line with open competition, preserving the protection of individuals and for the benefit of society. Speakers also addressed regulatory and ethical issues and the effective management of applied research for the needs of government, the private sector and the public.
"Our long-term cooperation with the Inria Institute and other centres shows how valuable it is to be able to involve our scientists in cutting-edge research at a truly European, as well as global, level", explained Josef Šivic, an expert in computer vision and machine learning, who leads the IMPACT and ELISE projects at CIIRC CTU, directs the ELLIS Prague research branch, and is the chairman of the AICzechia initiative. " The workshop was also a great opportunity to showcase that the Czech Republic has world-class research in the field of AI with the potential for global impact. "
See https://www.ciirc.cvut.cz/cz-fr-ai/ for more details.